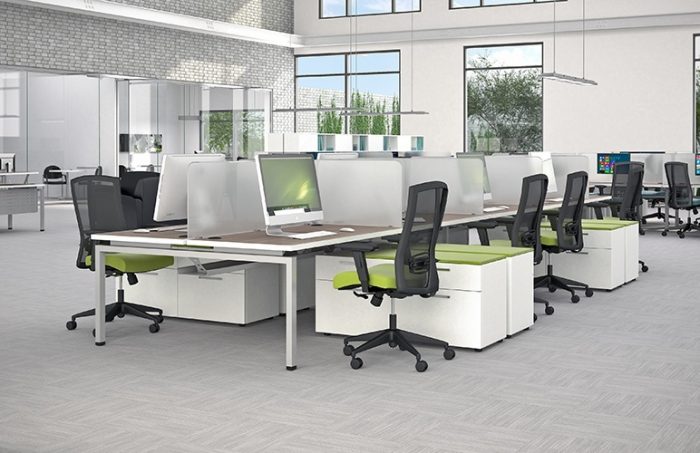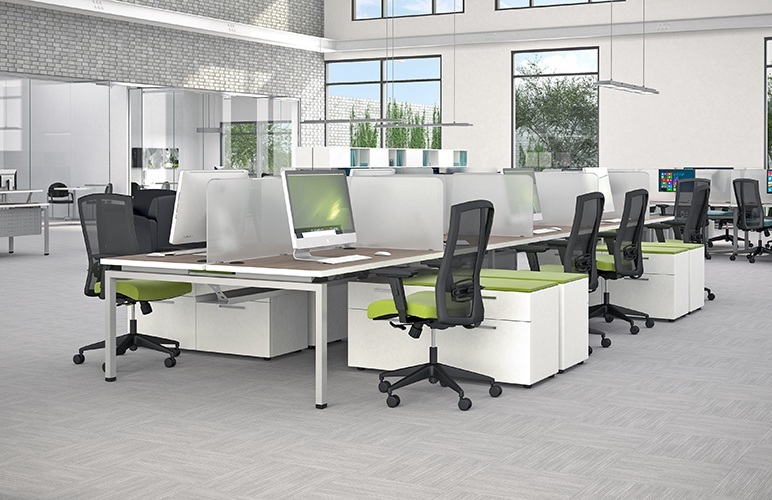 Have you seen the new office? Perimeter private offices and cubicles are gone in favor of open landscape benching and group collaborative seating. Carpeting is being replaced by polished concrete floors. Ceiling tiles are gone too to expose HVAC ducts and ceiling trusses right up to the slab. The traditional kitchen is now more like a luxury café emulating the look of a high-end Starbucks. The CEO is more prominently placed in the middle of the room in a more Japanese style. Meeting rooms of all shapes and sizes are available for both formal and impromptu sessions. Brighter accent colors, more sustainable building materials, and a better use of natural and full spectrum light are incorporated in the office design.
Behind the scenes, the new offices are employing smart technologies to increase energy efficiency and air quality which in turn improves work efficiency and dramatically reduces sick leave time. New sound absorbing materials and acoustical sprays are used to absorb sound. Sustainable building fabrics have a more modern seating look for a more contemporary aesthetic. Digital lighting uses less energy. The new office benching creates a higher population density requiring the more efficient HVAC systems with greater air exchange. The new exposed ceilings will come at a higher cost for installation and materials.
OLD VERSUS NEW
Are your employees ready to embrace the "new" office? Is this all moving too fast? Some folks simply cannot deal with a dramatic change of this magnitude. Can employees working out of a private office be suddenly thrust into a group setting? How will they be able to adjust, or will the transition feel more like a demotion? Will folks looking straight at each other feel like they have no privacy at all?
Some industry groups will certainly resist the movement altogether. Attorneys, Financial Advisors and Accountants will always want to work out of private offices. The majority of the new companies in Pharma, Tech and Healthcare will probably make the transition quite rapidly and with little effort.
The pace of transition to the new office is accelerating. While "green" office construction technologies have been around most of the country for the last ten years, here in New Jersey where new office construction is rare the new green technologies have been slower to come our way. Never-the-less, the future is here. Will your company be able to keep up with the pace of change? If you are considering making the transition who should you turn to for advice? Why not give us a call to find out why, at Dickstein Real Estate Services, "OUR DIFFERENCE IS YOUR ADVANTAGE® ".
Regards,
Lawrence Dickstein
Categorised in: Plans and Designs