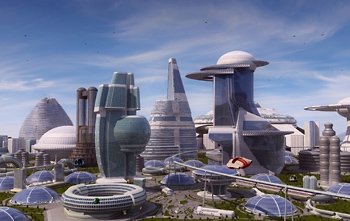 HOW WE GOT HERE 
To predict the future, amateur historians like myself think that we should first try to understand the past. The New Jersey office market was created in the 1970's and 1980's during the "no money down" building boom. The trick at that time for developers was to option a property at a highway interchange and through the magic of no-money-down non-recourse financing, construct a speculative office building or even several buildings by leveraging other people's money (which ultimately led to the S&L crisis of the following decades). 
Back in the seventies when service industries were first coming to the suburbs, no one really knew much about how to design, build or construct an office building, so the majority of what we now call Class "B" office properties were constructed in a very hodge-podge fashion by family developers with little prior commercial experience. These properties were very inexpensively assembled and they clearly were never conceived with quality or longevity in mind. The great real estate recession of the 1980's led to large-scale foreclosures of these properties which in turn led to the creation of REITS, Real Estate Investment Trusts, like Mack-Cali that overnight became the owners of 25 percent of all the office space in New Jersey, some 350 office properties. 
In the late 1980's and 1990's the market turned to Class "A" office properties which were spouting at a frenzied pace from companies like The Sammis Company from California that later morphed into Gale and Wentworth, and even later was acquired by Mack-Cali. The catch phrase back then for leasing brokers was the "flight to quality". Class "A" office parks became the new home for the Fortune 500 where companies could attract and maintain their demanding highly educated employee base. The Class "A" model was office park heaven and the projected rental stream for the developers of these properties was pointed skyward. Then the unexpected happened. 
Around the turn of the 21st century, a weakening of the business cycle caused another unexpected slowdown of leasing activity. Just when things looked like they might turn around we were shocked by the events of September 11th. 9/11 proved a devastating shock to the business community throughout the Garden State. Since the year 2000 office rents for the next 15 years became largely stagnant. 
Then suddenly in the year 2016 things started to swiftly change. The change was so rapid that many of us in the business community have not yet been able to fully comprehend its effect. 
NEW TRENDS 
We have been telling our readers about the bifurcated real estate markets here in New Jersey and their impacts on the business community. In our May, 2018 issue, we wrote about the almost zero vacancy in the Industrial space market. In November of this year we told you about the rapid transition from a Tenant market to a Landlord market in certain key areas like Metro Park, NJ, where rents have climbed by more than $10 per square foot in the last two years. 
THE FUTURE IS NOW 
So, where are we going in today's office market? Let me take you with me on a tour of office properties our firm conducted this month for a high end client in search of new offices. In what used to be one of the most select office markets along the Route 78 corridor, where Class "A" properties along Route 78 are considered one of the most sought after markets in New Jersey, we conducted a seven building client tour. What we discovered, looking through the eyes of our client was illuminating. Our client, like many top clients today, is looking for a property that makes a statement about their company —one that says we are a company with an open, environmentally friendly, collaborative work environment with public areas, workout rooms, walking trails, coffee bars, people friendly meeting spaces and nearby restaurants. 
What we learned is that the Class "A" space designs of yesterday are now meeting head-on with the demands of a new generation of fickle employees that choose their company as a reflection of their individual life style and personal values. Perimeter private offices are being replaced with open seat collaborative work environments. 
In order to be competitive in an environment where it is essential to attract the best and the brightest of this new generation, a company must be at the forefront of the latest in office space design and construction technologies. Environmentally friendly workplaces made from sustainable building materials, energy efficient structures with an abundance of natural light cascading into open spaces, and collaborative team seating, the latest colors, materials and design are where it's at. 
New Jersey's developers are scrambling to keep their properties relevant, by quickly re-purposing their older style traditional work spaces to the new and more contemporary world of work. 
To stay on the cutting edge, you need to work with those who are on the front lines daily. Your real estate advisor must understand the changes that are occurring and how to help their clients keep up with the space race. 
Need to establish your brand? Give us a call and find out why, at Dickstein Real Estate Services, "OUR DIFFERENCE IS YOUR ADVANTAGE®". 
Regards, 
Lawrence Dickstein 
Categorised in: Branding