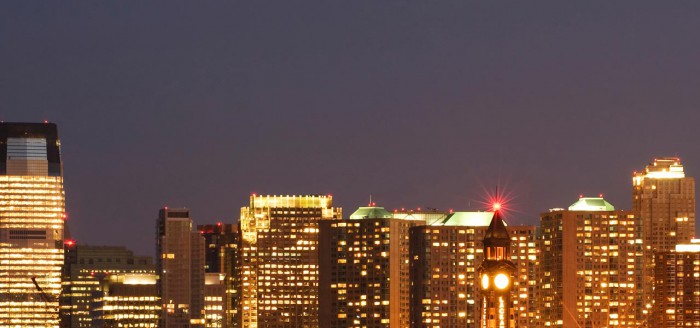 New Jersey office building developers are a tough breed. Back in the 1970's New Jersey was the model for the development of the suburban office park. One of the first of these was Lanidex, a 9 building office development at the intersection of  Routes 80 and the newly completed Route 287 in the town of Parsippany.
The developer, Bud McNally, was very much like the Walt Disney of office parks. It was his vision that enabled service industries to leave the confines of big cities like nearby New York City, as employees scrambled for a better quality of life. Bud was able to convince the folks at Metropolitan Life to underwrite the development of the park at a time when the Insurance Industry was flush with cash and looking at commercial real estate development as the next big thing.
Bud envisioned the office park as a kind of unique community with easy access to highways suitable for a new kind of office tenant, the back-office tenant. At that time in the 1970's, NYC was experiencing budget issues and was in a state of decline. While everyone still wanted a New York City headquarters, it was the brainchild of folks like Bud that envisioned the beauty of working near home where you didn't have to spend hours a day in commutation via train or bus to the Big Apple, as the next big trend.
With the success of Lanidex, we soon saw rival Prudential sponsoring something new and better, the Prudential Corporate Campus, the first true Class A office park in NJ soon to be followed by Chubb Insurance with a real estate spinoff, Bellmeade, who constructed another project nearby.
These parks served as the model for the suburban office campus, a phenomenon that exploded across the US at highway interchanges everywhere.
So, here we are some 50 years later in 2023.  As we pointed out in last week's newsletter, the larger tenants in Class A office buildings are mostly working with a hybrid schedule. This has led to huge problems for Landlords as almost 60 percent of employees are no longer in the office and many large office tenants are downsizing to shed excess space.
I am reminded of the creativity of guys like Bud McNally and their vision. Where we will find ourselves in the years ahead is the question of the hour. Developers in the Garden State are scrambling to find ways to work with our corporate leaders to reimagine work and keep their properties relevant.
As a trusted advisor to corporate tenants here in New Jersey for more than 25 years, we will keep our focus on the needs of each of our customers to find creative solutions to the problems of today and tomorrow.
If it is time to figure things out, why not give us a call and discover why, at Dickstein Real Estate Services, OUR DIFFERENCE IS YOUR ADVANTAGE®.
Regards,
Lawrence Dickstein
Categorised in: Real Estate Markets